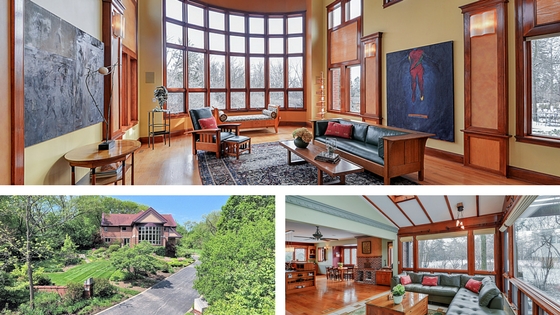 "A beautiful home" — to many, those words conjure images of a marble foyer, crystal chandeliers, and formal gardens. To Mia, the homeowner at 4222 Evergreen Drive in Lisle, those words mean something completely different.
"This home has been a nurturing place for family and friends," she says. "A house has to help you live well."
This stunning 6,000 square foot home — currently for sale — sits on a small summit at the end of a private drive. The Red House, as it's known, was conceived on the philosophy of Victoria-era designer William Morris. Morris spearheaded the Arts & Crafts movement in England, which valued natural beauty and fine craftsmanship.
In that spirit, the home uses only stained cherry and oak throughout — no painted wood. It's built on a Greek cross plan that allows the sun to flow in from every direction and even from above, thanks to a large skylight over the central stairway. The cross floor plan also achieves two ends: it presents an open floor plan while simultaneously providing privacy and quiet in various areas of the home.
Practicality, beauty, and ease of entertaining are combined throughout the home. The working part of the kitchen is built on a distinctive T-shape plan (rather than the frequently recommended work triangle) so friends and family can assist in meal prep — possibly making use of the pizza oven or the indoor grill — without being on top of one another. Around the corner from the kitchen is a wet bar area, which overlooks the living room and the huge floor-to-ceiling window.
"I can be making a meal and really concentrate while my guests are nearby. I can still visit with them but get my cooking done," says Mia. "The kitchen has two dishwashers, too. Everything goes in those — I'm in bed sometimes before my guests are even home!"
Upstairs, the master bedroom has the expected en-suite bath and huge closet with custom shelving, but also its own laundry room. The homeowners can keep thus keep to themselves in the early morning while offering overnight guests privacy in the other four bedrooms.
The love of beauty for its own sake extends to the multi-tiered gardens, which gently undulate on several levels around the house and are designed to celebrate all four seasons. There is an eating area, walking paths, decorative ponds, towering trees for shade, a tennis court, a play area, sunflowers in the summer, plants that attract butterflies and birds — even a thriving pumpkin patch, which is a riot of deep orange in the fall.
Though the house was built in 1997, it anticipated many of today's lifestyle preferences.
"The nineties were a 'decadent' time in home building," says Mia with a smile. "Today's homeowners in their thirties and forties are more sophisticated. They're well-traveled; they're technically sophisticated. They don't need labels." They want a home that is "high performance," as Mia says — not one that merely impresses.
When asked where the new owners should go on their first evening in the home, she considers the sun room off the kitchen — her own favorite spot for family — but ultimately suggests the living room, with its view of the gardens.
"They should pour themselves a glass of wine," says Mia (easy enough, since the full walk-out basement houses a wine cellar holding more than 4,000 bottles). "Then really look around and take it all in."
The Red House in Lisle lives up to William Morris' philosophy: "If I were asked to say what is the most important production of art . . . I should answer, A Beautiful House."
If you would like a private showing of this home, currently offered for $1.25 million, call Alice Chin at 630.854.3725.