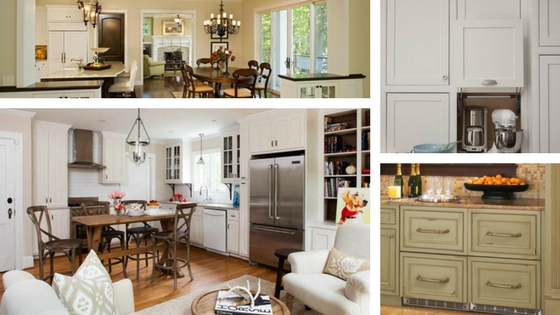 The kitchen continues to be the heart of the home in every sense of the word. It's not only a place to cook and eat but also where parents entertain, kids do homework, and everyone watches TV. Here are a few of the kitchen trends we've noted as we've been helping our clients sell and buy their homes.
Kitchen as Dining Room — Many homeowners are eliminating a formal dining room and opening up the walls to create a "mega kitchen" with two eating areas. With the beauty of today's flooring, cabinets, and neutral paint tones, these areas are still elegant enough for entertaining during the holidays.
Back Kitchen — Of course, just because you're entertaining in the kitchen doesn't mean you want your guests to see all the mess. Some homeowners are opting for a "back kitchen," with a stove or oven, where the nitty-gritty of meal preparation takes place. This leaves the main part of the kitchen clean and tidy for putting the finishing touches on meals — let friends and family pitch in!
Hidden Appliances — And with all that partying going on, we want our kitchens to look as much like family rooms as possible. Lately, we've seen roll-down appliance "garages," a coffee corner with pocket cabinet doors that close, and a toaster that rolls out on from the cabinet on a sliding rack — all of which keep the kitchen looking less cluttered.
Integrated Appliances — Furthering the "hide your appliances" theme are integrated appliances, otherwise known as "refrigerators with cabinets on them." Though integrated refrigerators and dishwashers have been popular for some time, their variety is increasing. We've seen everything from appliances that look like priceless antiques to some so sleek and modern they almost blend into the walls.
Refrigerator Drawers — Dishwasher drawers provide a great way to wash small loads, but refrigerator drawers are almost as popular. Once only seen in basement rec rooms, they're finding a home in the main kitchen. Some homeowners forgo a traditional fridge altogether in favor of several drawers, each devoted to produce, frozen goods, etc. A group of refrigerator drawers generally finds a good home in the kitchen island.
Fewer Upper Cabinets — Minimalists without a plethora of dishes and glassware don't need two or three walls of upper cabinets. Instead, these homeowners use that empty wall space for open shelving and artwork. If you decide to forgo upper cabinets, consider making your stove hood a smashing visual showpiece.
Kitchen as Family Room — Upholstered furniture, TVs, tables for doing homework, and — most importantly — fireplaces: each of these finds a home in today's kitchens. A modern version of the colonial "keeping room," this trend is part of today's preference for open floor plans that make for quality family time.