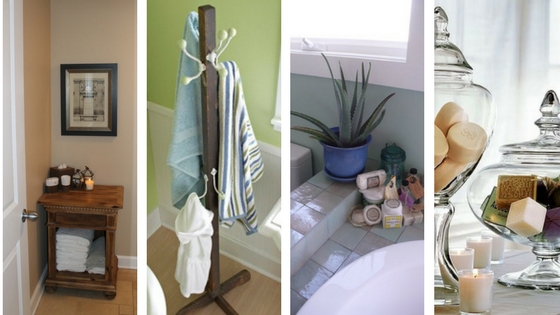 It's the first place you see in the morning and the last place you visit at night. Plus, it's a great place to read! So whether you live in a suburban McMansion or a just-out-of-college apartment, treat yourself to a bathroom that's a secluded retreat — without calling in a remodeler!
MAKE SPACE WHERE THERE IS NONE

Unless we're movie stars, most of us don't have bathrooms the size of our garages. But you can add space where there is none. Consider a curved shower curtain rod to give you extra elbow room while you're showering. And a suspension rod inside the shower — along with some "S" hooks — is a great way to hang loofahs, brushes, and spray bottles.
ADD SOME TEXTURE
The thickest, softest, largest bath towels you can afford? Money well spent! And don't skimp on the hand towels, either — your guests will appreciate them. Nice thick rugs that you can really sink your toes into is a necessity by the tub and in front of the sink. Or forgo comfort for appearances and consider two differing but coordinating mini Oriental rugs.
HANG IT UP!
Tired of folding towels "just so"? Consider ditching the towel rods and replacing them with large decorative hooks. Hooks free up wall space — plus, it's a snap to just drape towels over them. Don't forget a hook on the back of the bathroom door for your robe. And finally, consider adding a vintage coat rack to your bathroom. It will take up next to no floor space and is yet another option for hanging towels. The night before, you can even use it to hang the outfit you're going to wear to work the next day.
PRETTY UP THE WALLS
Even the tiniest bathrooms will look for distinctive if you paint just one wall. Consider jewel tones, which are all the rage right now: ruby red, sapphire blue, emerald green. All will work their magic when you're soaking in the bathtub with a good book. And forgo the usual artwork with cute little sayings. Instead, think vintage fashion prints, architectural renderings, or botanical prints to add a touch of class.
TOUCHES OF (ACTUAL) NATURE
As long as you're hanging botanical prints on the wall, why not add some actual plants? Small cut flowers, such as lily of the valley, can look pretty for a few days, but a potted plant will last much longer. Consider ferns, cacti, or succulent plants such as aloe vera. Its skin-softening properties alone make it a natural fit for the bathroom.
REPURPOSED FURNITURE
Pedestal sinks are pretty, but the knock against them is that, by ditching the vanity, you're losing valuable storage space. Actually, if you're think creatively, you're gaining space. Tuck vintage crates or baskets under a pedestal sink — they make great storage for rolled up towels. Slim nightstands with multiple drawers can hide toiletries and medicines in half the space a vanity took up. And if you still want a traditional vanity, why not buy a vintage dresser and turn it into one? Here's a quick how-to: http://www.hgtv.com/design/rooms/bathrooms/convert…
PRETTY LITTLE TOUCHES
And finally, don't forget to "add the pretty" by using unexpected elements and unusual storage pieces. Antique sugar bowls and teacups can make great storage pieces for cotton balls and cotton swabs. A small vase can hold makeup brushes. And with so many beautiful soaps and lotions on the market, why limit yourself to grocery store brands? Buy beautiful mini bar soaps and small tubes of lotion and place them on a clear glass dish. They'll look beautiful against that jewel-toned wall!