It goes something like this. You just spent the day house hunting and think you've found the perfect home. You're all excited — this is it! You come home and relax and as you gaze around your current home, reality sets in: "Wait a second! If we move I'm going to have to pack up all this stuff? Forget it!"
Moving is indeed stressful in and of itself, but the packing that precedes can be absolutely overwhelming. To that end, we offer these can't-miss tips on taking packing one step at a time.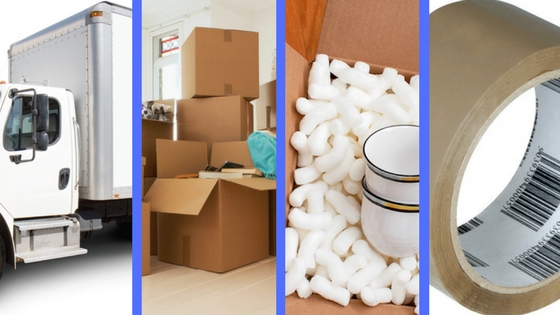 Clean House First. Seriously, are you really going to move all those board games — the ones your adult children haven't played with since the late nineties? Ditto on the craft supplies you just know you're going to get around to using . . . someday. We're all guilty of moving boxes (that never get unpacked) from house to house to house, but let this move be the one where you end that cycle. Hold a garage sale, donate it to Goodwill, or just pitch it if you haven't used it in years.
Gather Your Supplies. The Alice Chin Team recently spoke to Steven Bonnischen of Prager Moving & Storage in Naperville, and he offered this suggestion: start with the biggest table in your house and put a protective covering on it, such as a plastic tablecloth. (No matter how large it is, Steve advises not using your dining room table.) Among the supplies you'll need (other than boxes): a big stack of packing paper, bubble wrap, packing peanuts, heavy-duty packing tape, Scotch tape, thick markers, and scissors.
Pack Room by Room. Start with rooms you use less frequently, such as the living room or the dining room. Pack a few boxes a day, starting well ahead of the move.
Heavier at the Bottom. It may seem obvious, says Steve, but it's worth noting. Pack heavy items at the bottom of the box and lighter items on top. And always remember to pack heavy items in the smallest box that will fit them. This will reduce the temptation to add even more items, resulting in a box that's even more difficult to lift.
The Dainty Stuff & the Tough Stuff. Do consider having a professional pack your china, crystal, and that delicate chandelier. Conversely, professionals movers and packers are often the best choice for packing extremely heavy and awkwardly shaped items such as gym equipment or computers and their tangle of cables.
Do-It-Yourself Items. Items that are so personal they're almost embarrassing? Pack them and move them yourself — if they fit in the car. It's also wise to put important documents and records, jewelry, photo albums you wouldn't want to be without, and even house plants in the car with you. You'll feel safer knowing their within eyesight, whether you're moving cross country or down the block.
Label Everything. Mark all boxes with a room name and a box number. Steve strongly suggests recording the box number on a box identification log that shows the number of boxes packed per room as well as the total number of boxes packed overall. You can use the log for listing what's in each box ("Books," "Coffee Mugs," Shoes") or you can write a brief description of content on that boxes themselves.
Fill Boxes Safely. Don't overpack boxes. Use plenty of packing materials and don't be skimpy. Don't stuff too many items in one box. A box under 50 pounds is much easier to move, not only for the movers, but for you, as you move things around in the weeks leading up to the move.
Check Box Bottoms. Make sure the bottoms of the boxes are taped securely and will hold the weight of the contents. Again, overdo it if necessary.
First Night in the House. There are some items you'll need right away. Canned goods, frozen food, your child's favorite toy or blanket, even basic cleaning supplies. Make sure these items are clearly labeled and put on the back of the truck (keeping in mind the "last on, first off" rule) or put them in the trunk of your car (not forgetting a cooler for those frozen items!).
Packing and moving may never be fun, but with a sold game plan, the finish line of a brand new home will seem closer than ever.