In the coming weeks, principal agent and team founder Alice Chin will be answering all your real estate questions — she truly is a font of wisdom! To start our conversations, we recently sat down with with Alice to talk about what drew her to real estate and what keeps her going.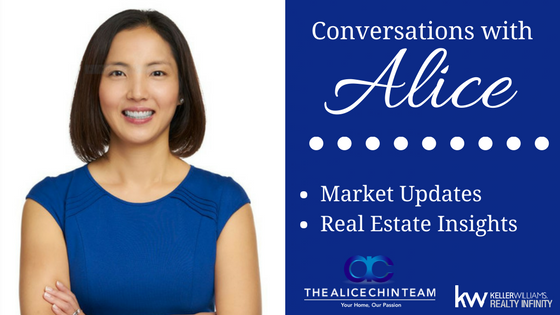 What most attracted you to this field? Being able to combine my passion for numbers (my background is infinance) with the opportunity to interact with people on a daily basis.

Is there a typical work week? There actually isn't atypical work week! However, I would say that I typically work anywherefrom sixty to seventy hours a week, depending on the season. One of thereasons I love my work is because every day isdifferent, with new challenges.
What aspect of the work do you most enjoy: customers,relationship-building, the financial end? I most enjoy the relationships and the people I meet — that is reallythe most rewarding for me.
How do you maintain a good work/life balance? I time-block almost everything, because anything that isn't in mycalendar, I will probably forget. Once something is in my calendar, thenI am committed to it, whether it is business or personal.
Is this a good job for those fresh out of college, or does it require more"seasoning"? I think that this career would be good for either, as long as theperson entering this field is realistic about it and truly loves real estate. It is a job where you need to be flexible to the client's schedules — not the other way around. Thereare some days and weeks where you will literally work until you drop, but ifyou have a passion for it, then it won't seem like work.
Have a real estate question you'd like Alice to answer? Email our marketing manager, and she'll talk to Alice! debra@alicechin.com
Principal Agent Alice Chin has lived in Naperville since 1991. A graduate of Naperville North High School, she continued her education the University of Illinois at Urbana-Champaign, graduating with a degree in finance. Previous to her real estate career, she worked at J. P. Morgan Chase as an underwriter and commercial banking analyst. When she transitioned to real estate, she was Rookie of the Year her first year in business. She is fluent in Mandarin Chinese and lives in Naperville with her husband and daughter.